To add patient test report for a pathology test, first you need to generate a Pathology Test bill. So to generate pathology test bill click on + Generate Bill button present at Pathology page here enter Patient (patient can be added here in three ways 1. Search for patient at search area. 2. Add new patient through +New Patient and 3. Enter Prescription No. so patient details with prescribed test will auto fill at generate bill), Test Name, Reports Days, Report Date, Tax, Amount, Hospital Doctor and Doctor Name, custom field details (if any) then after adding all pathology test details enter Discount and Tax if any, to calculate final bill click on Calculate button then click on Save button. After this, bill will be display on Pathology page.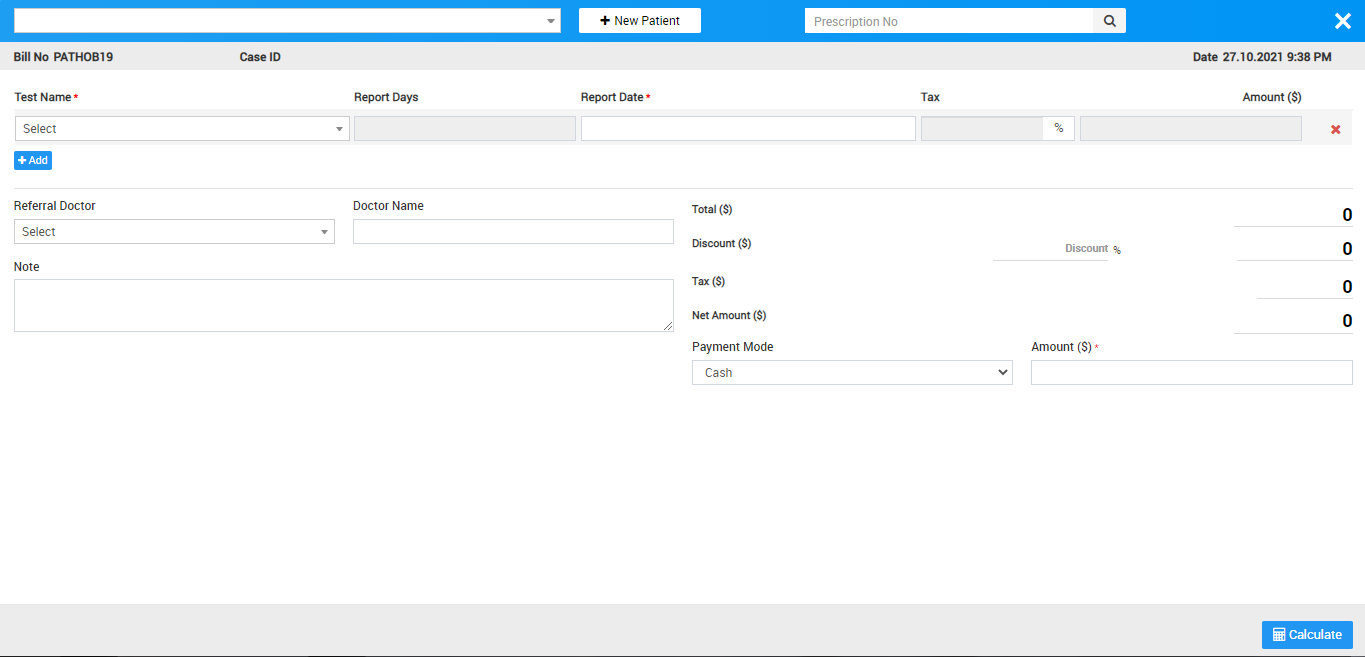 Now after generate pathology bill there two option will be show these are View Reports and Add/View Payment.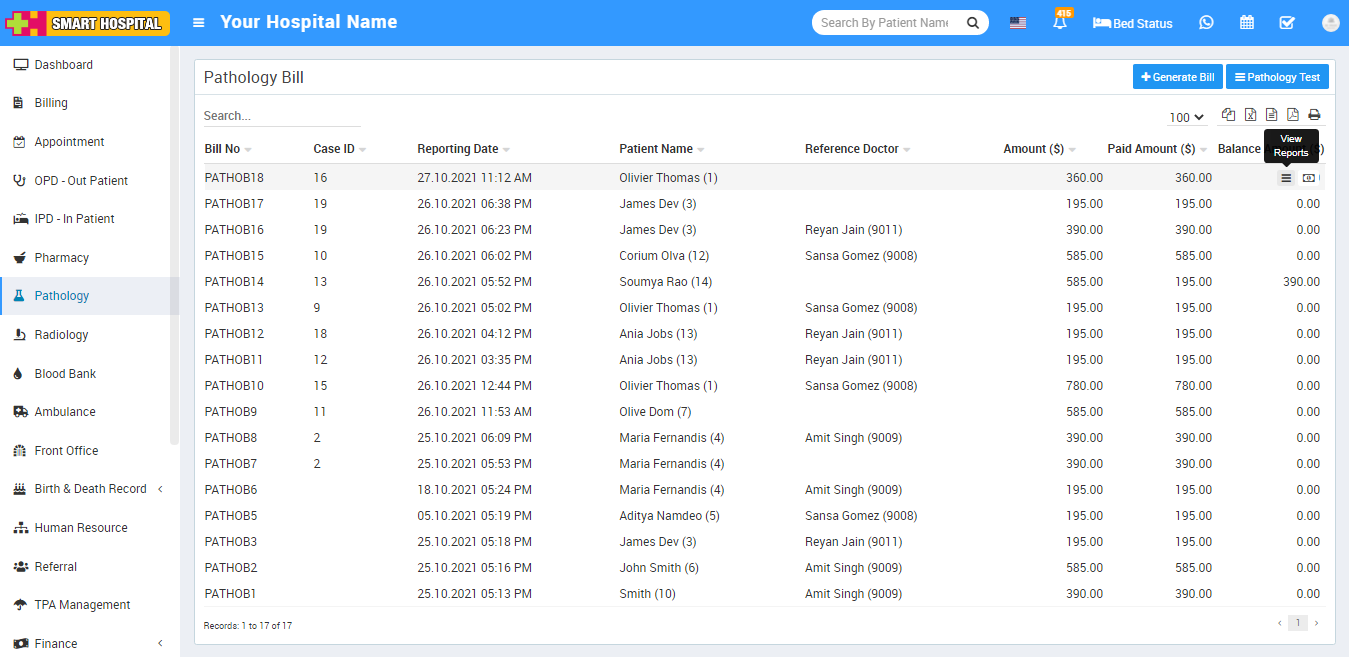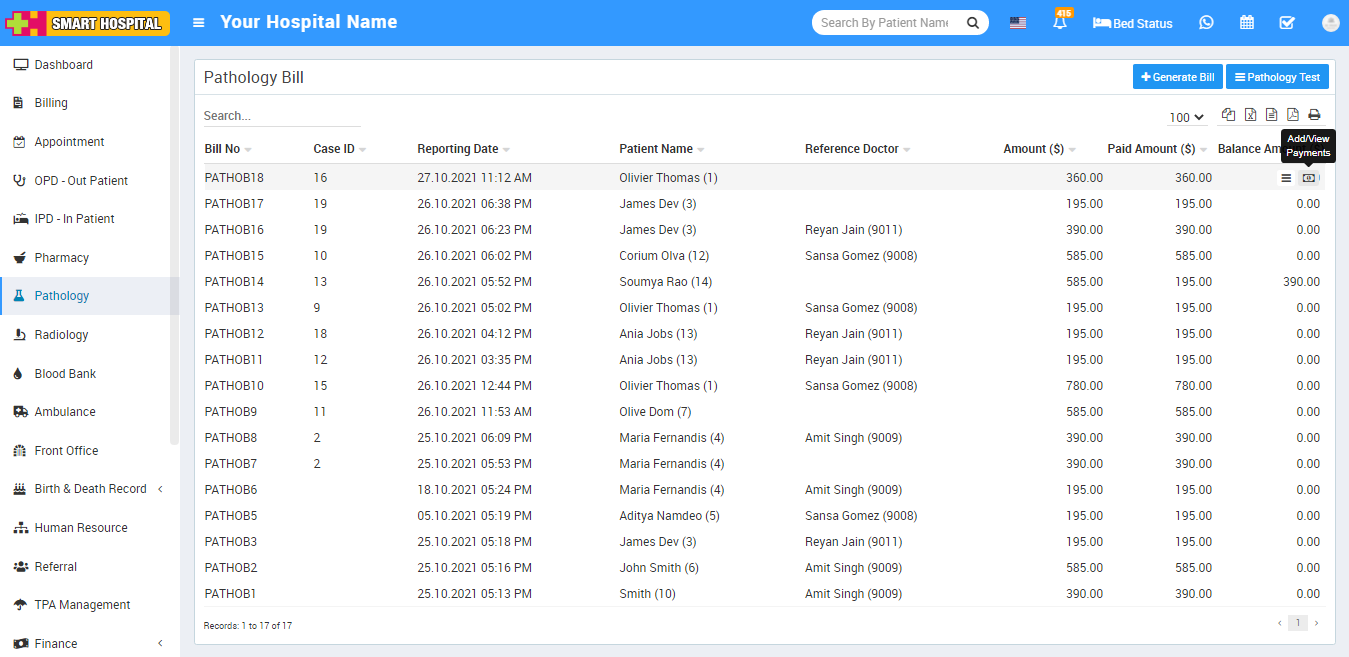 To View Reports click on View Reports icon here you can view bill details, to print bill click on Print icon present at top right corner, to edit bill click on Edit icon present at top right corner and for delete bill click on Delete icon present at top right corner.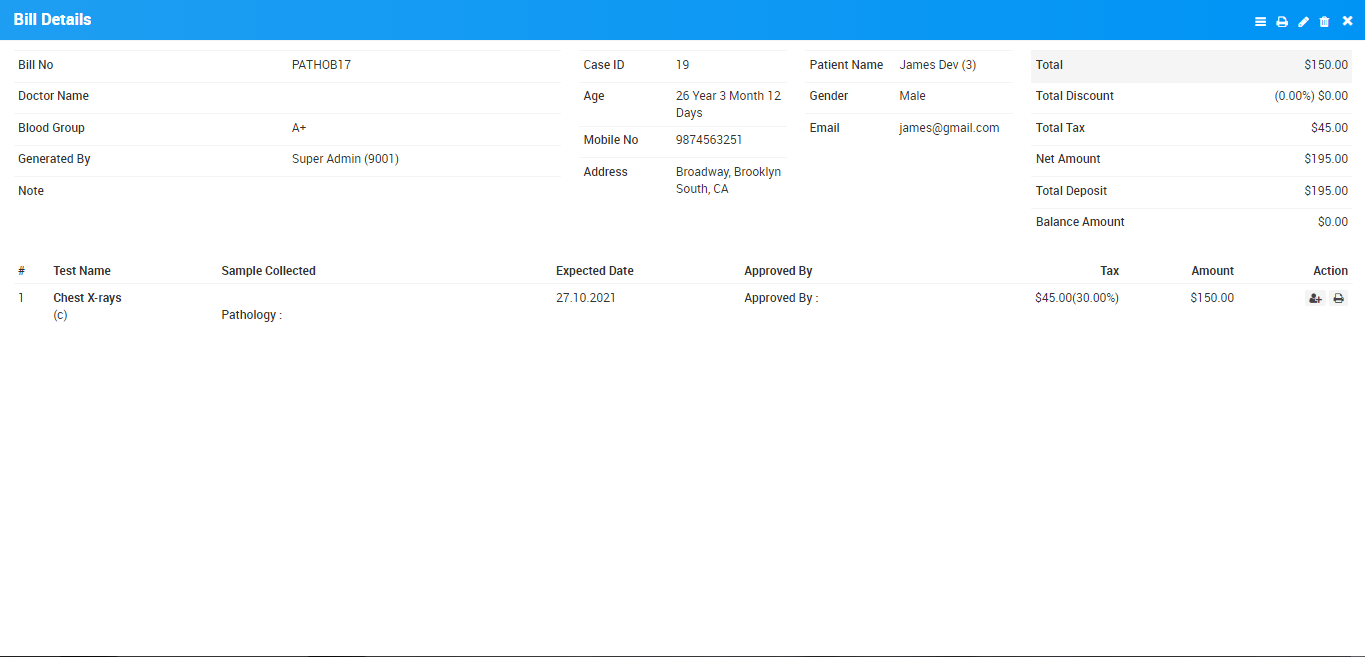 There is one more section at Bill Details under test details section where you can add/edit Sample Collection Person details and Print Report.

To Add/Edit Collection Person details, click on Add/Edit Collection Person details button icon present at View Reports Page here Add/Edit Sample Collected Person Name, Collected Date, Pathology Center then click on Save button.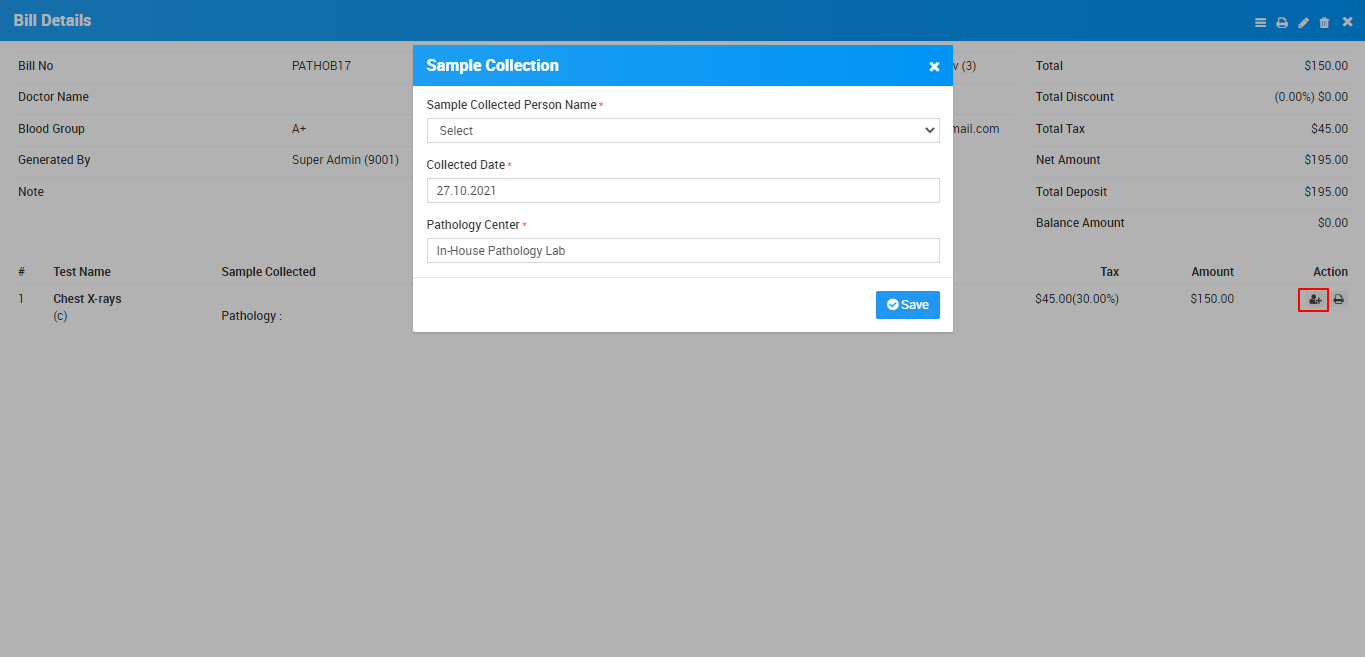 Once you have added Collection Person details and click on Save button so you will see one more option at bill detail page which is Add/Edit Report from this option radiologist/staff can add patient test result report.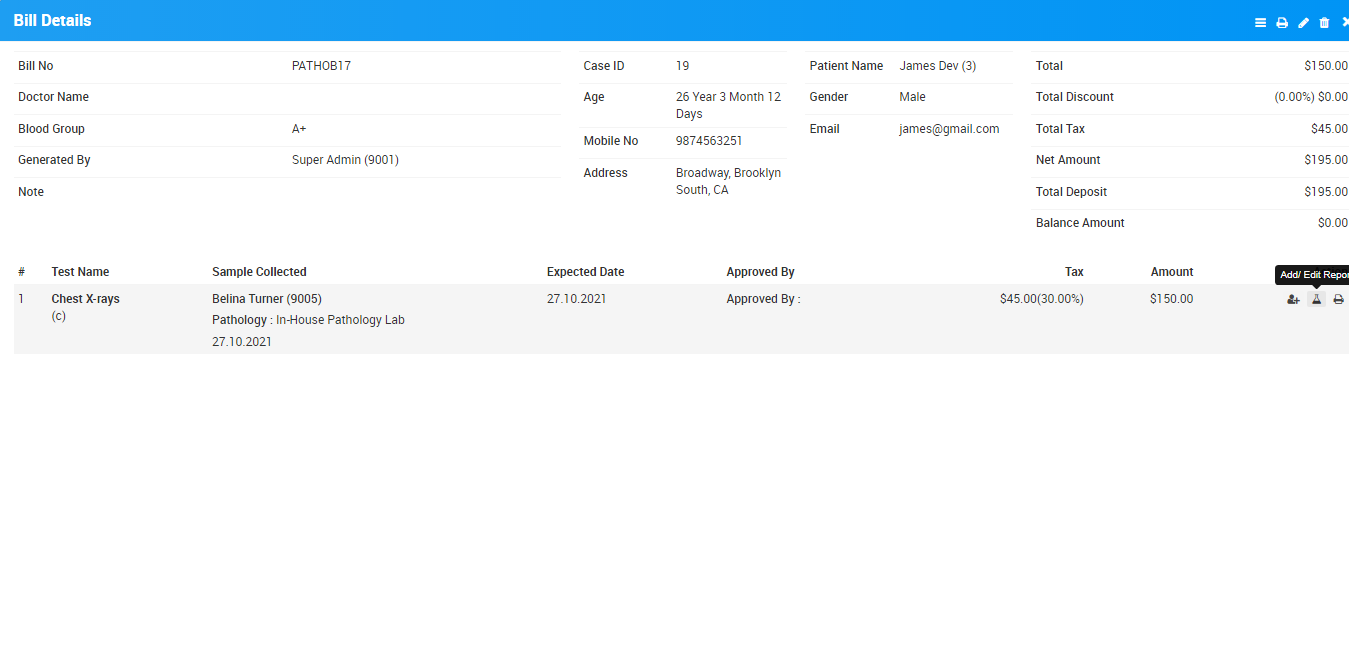 To Add/Edit patient test result click on Add/Edit Report button icon present at View Report page. Here you can add Approved By, Approved Date, Upload Report and Test Parameter Value at Report Value text area then click on Save button.

Note - Please click here to see how to add Test Parameter values in Smart Hospital.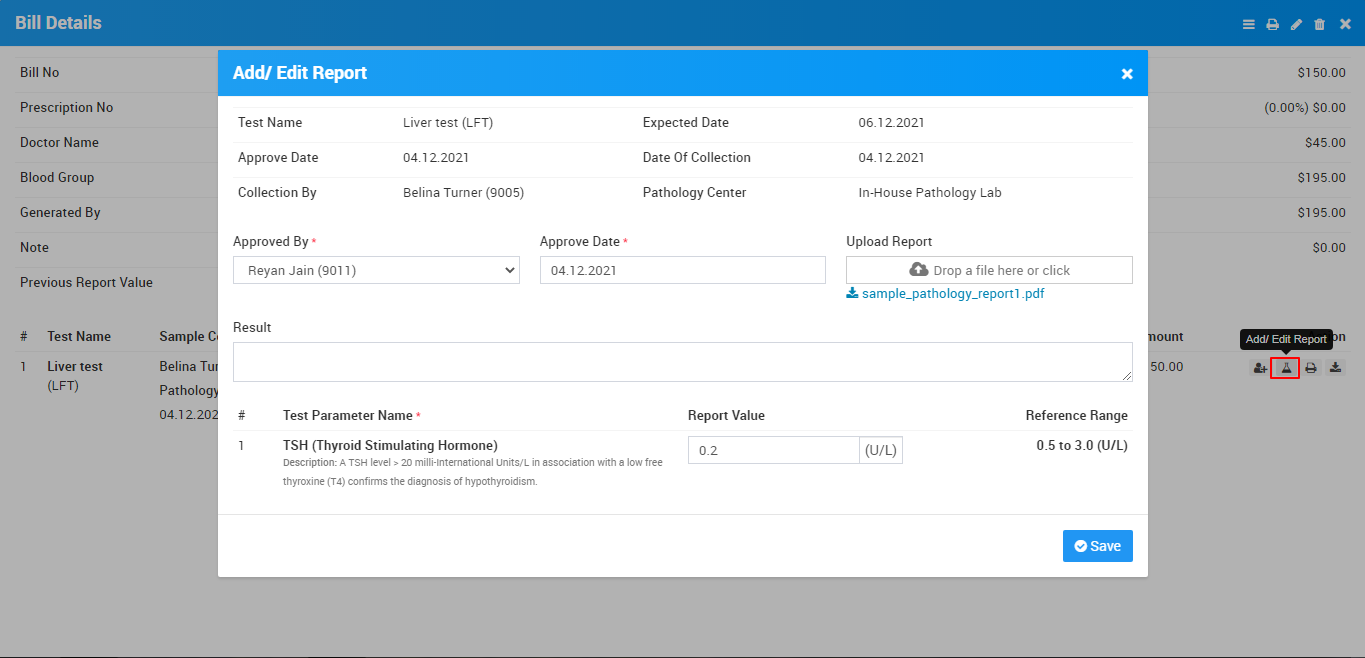 Now to print Pathology Test report click on Print button present at Action column at Test details under View Report page.

To print multiple test report in a single page click on Print Test Report icon present at top of the page.